Programs completed
Community Participation for Drinking Water…..SwajalDhara:
What an irony that despite the fact that about 70% of the earth is water, there are areas in India where water is thicker than blood especially in U.P. The reason being though there is ample water but there is constantly degrading level of drinking water. Contemplating this crisis, the
government is concerned about drinking water. Hence to make people aware and provide them a source of drinking water through community participation, SwajalDhara scheme run by Rajiv Gandhi National Drinking Water Mission, GoI was launched. JPSF runs this project in Raebareli and Unnao district. Over 216 mini water tanks are being constructed by the organization under SwajalDhara programme in 12 Gram Sabha of Unnao, Raebareli, Basti, Hameerpur, Kushinagar and 6 Gram Sabha of BalrampurandMahrajganjdistricts. The construction work of water tanks has been completed on Akohari, Mawai, Hilauli, and Lauva, Sindhankheda of Unnao district and pipe line are being laid down in these areas. This programme is based on the concept of community participation. After completion of this project it would be handover to VWSC of Gram Panchayat.
2. Education to All…..Bal Shramik Vidyalaya:
Not everyone is lucky enough to kiss the door of schools. Some are born to take up responsibility for which they are not entitled like going to work and earning their livelihood at an early age. To counter this problem and strengthen rural strata, JPSF came up with Bal Shramik Vidyalaya. The school offers education to school labour child from primary level to fourth standards with considerable stipend. It was established in the year 2008 in Atarra and Shivpuri block of Banda district. Currently, it is working smoothly with batches of around 50 students in each block. After pursuing education till class four, they are admitted to main stream school along with regular students. Thus, JPSF is determined to uproot illiteracy from grass root level.
3. Integrated Low Cost Sanitation Programme (ILCS):
Management is a pre-requisite for developed and sustained society. That's why the programme Integrated Low Cost Sanitation Programme (ILCS) was launched. This programme is funded by DUDA. This scheme is being carried out by professionals of JPSF in Bisauli of Badaun, Jahanabad of Fatehpur and Farukhabad. This project also emphasized on community participation. Besides, providing financial and professional assistance the project had the objective to uplift the living standard of the masses. The organization is constructing around wet 800 latrines in place of dry ones in district Farukhabad. 1265 latrines in Bisauli of Badaun district and 200 wet latrines in Jahanabad of Fatehpur are being constructed by organization.
4. Vocational Training Programme:
The vocational training by experienced and trained teachers is being provided in Bachhrawan of Raebareli, Hilauli of Unnao, Jinjhak of Kanpur and block Jagdishpur of Sultanpur rural. The organization is determined towards this aspect.
The youngsters have been placed in Kanpur Industrial Area by pursuing training in different trades. Some of them are earning their livelihood through self employment.
5. Coaching for minority students:
With the assistance of M/O Minority Welfare, GoI, the organization runs coaching through which 60 minority children have been provided Pre- Medical and Pre-Engineering coaching along with scholarship in district Unnao. The organization has submitted report to the department by managing coaching successfully.
6. Swarna Jayanti Gram Swarojgar Yojana (S.G.S.Y.):
Under SGSY 100 and 150 groups have been constituted of which 50 and 100 have been linked to banks in Asoha and Hilauli respectively. Certificate has been awarded to the organization for constituting 66 self help groups (SHG's) and their debt distribution by District Magistrate of Unnao in District level programme.
7. Women empowerment (Swayam Siddha) Programme employment oriented training programme:
With the help of State Mahila Kalyan Nigam, Lucknow a group of 101 women has been constituted in developmental block Singhpur of district Raebareli under Swayam Siddha Project. These groups are merged to form Sankul which are further merged to form Unions. This is being done to make women self employed and self dependent. Above groups have been linked through banks and the assistance is provided in selling and purchasing of goods furnished.The training pertaining to readymade garment, beautician, leather hand bags and purse, vermin
compost etc. has been given to around 240 women through batches of 30 each in 4 Gram Sabha of Mahmoodabad and 4 Gram Sabha of Sidhalui under job oriented programme by Uttar Pradesh Mahila Kalyan Nigam.
8. AIDS Awareness Programme:
Merely the name of AIDS haunts one's spirit. AIDS, today, is incurable disease. What makes this disease more deadly is the unawareness about this disease. Most of the people fall prey to it only due unawareness like using syringe used by other person. So in order to make people aware to prevent this fatal disease, JPSF is conducting AIDS awareness programme in Gram Panchayat- Ichauli, Neewa, Madaikheda, and Kurri of Raebareli district with the help of SPYM, New Delhi and NACO under PIL programme. This programme has been launched to make people aware of AIDS and ways to prevent this disease.
9. NEAC :
M/O Forest and Environment has provided assistance to JPSF to organize workshop on Environment Conservation in primary school of Ranikhera of Gram Sabha Rajamau.
10. Employment Base Capacity Building Programme of Women: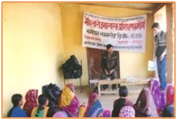 JPSF has been finally empanelled for employment based capacity building training programme of poor women's in District Sitapur and Badaun. The programme has been assisted by Women and Child Development Department Govt. of Uttar Pradesh. This programme has the objective of trade training programme as Readymade Garments, Mobil Repairing, beauty parlor, leather purse making etc.
11. Priyadarshini Programme:
The organization has continuously strived for the upliftment of the status of the women. Priyadarshini programme funded by International Fund for Agriculture Development (IFAD) Rome Italy, MWCD GoI & NABARD is a giant leap towards this goal. The programme is aimed at Women Empowerment & Livelihood Programme in Mid-Gangetic Plains in Distt RaebareliShivgarh and Bahraich with two blocks- Risia & Nawabganj in UP. We are working on 2400 SHG's. This programme is target population coverage 28,800rural poor households. These programme objectives are creating a strategy for linking poverty reduction, Promoting community-based organization of women to participate in the strategy, establishing systems for input delivery and asset creation through SHG model, testing innovations, convergence, exposure and income generation activity e.g. basic craft, shops, goatery, hatcheries, animal husbandry.
12. Aanganwadi Training Centre:

JPSF is running Training Centre for Anganwadi Workers in District Raebareli of Uttar Pradesh from year 2012 under support of Step HBTI, Kanpur and supervision of Mahila Kalyan Nigam. Here experts giving training to Anganwadi workers on child development.
13. Capacity Building Programme of Elected Representative PRI:
JPSF has been finally empanelled for Training of Elected Representatives in District Jalaun, Etawah, Lalitpur, Jhansi,Chandauli and Shrawasti. The programme has been assisted by BRGF and RGSY, Govt. of Uttar Pradesh. This programme has the objective of educating and creating awareness among ER's for better implementation of Panchayati Raj System in India
14. National Level Monitor
JPSF is selected as National Level Monitor under Ministry of Rural Development, Government of India, New Delhi. The organization completed monitoring work of the allotted districts Bokaro & Dhanbad of Jharkhand State and Rohtas&Kaimur of Bihar State. In each block 10 Gram Panchyat was selected for monitoring 10 flagships (like- MGNREGA, SGSY/NRLM, GAY, NSAP, PMGSY, DDP, DPAP, IWDP/IWMP, NRDWP &TSC)  programme of Ministry of Rural Development, GoI.
15. Women Old Age Home:
The organization implemented from March 2014 with support of Uttar Pradesh Mahila Kalyan Nigam Ltd. Lucknow "Old Age Home" at Distt HQ Azamgarh. Their program aims to provide Azamgarhmandal of victim's women old age for safe and secure residential place and daily fooding, lodging and clothing facility. In this programme was 100 old age women's are benefited.  These programme was provide to unemployed 16 male/female of full time employment. 
16. Hot Cooked Programme:
The organization implemented from March, 2013 – 31 Jan, 2014 with support of Dept of ICDS Distt-Lucknow. "Hot Cooked" at Distt Lucknow of Mohanlalganj block. Their program aims provide to at the 208 AWW Centers for working women's of 0.5 years children's. In this programme was near about 10,000 rural working women's children's benefited by as per menu cooked Mid-day-meal. These programme was provide to unemployed 25 male/female of part time employment. 
17. Jai Krishna Subhash Degree/Coaching College:
The organization has also established Jai Krishna Subhash Degree College/Coaching College in Maurawan town area block of Unnao district. The college imparts education to around 300 students in arts stream. The college has highly professional, dedicated and qualified teaching staff. Every year it admits around 100 fresh students and produces a no. of graduates. The objective behind the establishment of college is to give education to bright students beyond economic barriers.
The college has come a long way since it was established and is still striving for further progress on economical, academic and professional ground.
Completed Project Details up 2018
| | | | | | | |
| --- | --- | --- | --- | --- | --- | --- |
| SN | Name of Program | Objective | Supporting Agency | Period From – To | No. of Beneficiary | Working Place |
| 1 | National Environment Campaign (NEAC) | Awareness to Pollution | M/o Forest & Environment, GoI, New Delhi. | 1993-1995 | 15000 Community | Block – Bachhrawan Distt- Raebareli. |
| 2 | Swanjayanti Gram SwarojgarYojna (SGSY) | Women Empowerment through SHG. | DRDA, Raebareli, Unnao & Lucknow Distt. | April 1999 June 2009 | 2500 Women | Block- Hilauli (Unnao), Bachhrawan (Raebareli), Mohanlalganj (Lucknow) |
| 3 | Grass Roots Level Training (GRLT) | Training on Rajgir, Prerak, Hand pump Mechanic to rural person | HRD Cell, U.P. Jal Nigam, Lucknow. | May 1998 | 2250 Person | Distt-Faizabad, Bareilly & Pilibheet. |
| 4 | Reproductive & Child Health (RCH) | Family Planning & Child Caring | M/o Health & Family Welfare, GoI, New Delhi | 1993-1995 | 600 Women | Block- Bachhrawan Distt- Raebareli |
| 5 | Family Planning Programme | Family Planning | Indian Council for Child Welfare & Rehabilitation, Lucknow | 1993-1995 | 500 Women | Block- Bachhrawan Distt- Raebareli |
| 6 | Swayam Siddha Programe | Women Empowerment through SHG. | UP Mahila Kalyan Nigam Ltd. Lucknow. | 2001-2007 | 1200 Women | Block-Singhpur Distt-Amethi. |
| 7 | Swajal Dhara Programe | Drinking Water Supply & Construction of Tank | State Water & Sanitation Mission, Lucknow | 2005-2011 | 3500 H Hold | Distt Raebareli, Unnao, Basti, Balrampur, Hameerpur, Mahrajganj, Kushinagar. |
| 8 | Bal Shramik School | Education to Bal Shramik | O/o Labour Commissioner Distt-Banda. | 2003-2005 | 100 Child | Block- Atarra & Shivpuri, Distt- Banda. |
| 9 | AIDS Awareness Programe | Awareness on HIV/AIDS | SPYM (Mother NGO), New Delhi. | 2001-2002 | 15000 Community | Block – Bachhrawan Distt- Raebareli. |
| 10 | Coaching on Pre Medical/ Engineering | Free Minority Coaching Center | M/o Minority Affairs, GoI, New Delhi. | 2008-2009 | 60 Youths | Distt HQ Unnao. |
| 11 | Residential & Non-Residential Bridge Course | Providing Education of 1-4th Class | Director, SarvaSiksha Abhiyan, Lucknow. | 2002-2003 | 2200 Child | Distt– Raebareli, Lucknow, Unnao. Bareilly Shahjahanpur, Azamgarh, JP Nagar. |
| 12 | Integrated Low Cost Sanitation (ILCS) | Const. of Jal Pravahit Shauchalaya | DUDA, Badayun, Farukhabad & Fatehpur. | 2007-2009 | 1640 H Hold | Distt – Badayun, Farukhabad, Fatehpur. |
| 13 | Mahila Rojgar Parak Prasikshan | Trg of Readymade Garments, Mobile Repairing, Beauty Parlor, Leather Purse making | UP Mahila Kalyan Nigam Ltd. Lucknow. | 2009-2012 | 360 Women | Distt–Sitapur, Badayun, Sant Kabir Nagar. |
| 14 | Kishori Shakti Yojna | Training to adolescent girls on Physical health. | UP Mahila Kalyan Nigam Ltd. Lucknow. | 2011-12 | 140 Girls | Distt HQ Badayun. |
| 15 | Anganwadi Worker Training | Training on Child care, health & hygiene, financial & center record maintenance. | UP Mahila Kalyan Nigam Ltd. Lucknow. | 2011-2013 | 600 AWW | Distt HQ Raebareli. |
| 16 | Capacity Building of PRI Members | Training on Panchayati Raj Act. | BRGF, Dept. of Panchayati Raj, GoI. Uttar Pradesh | 2009-2011 | 27000 PRI Member | Distt-Lalitpur, Jhansi, Chandauli, Jalaun, Shrawasti, Etawah. |
| 17 | Mass Awareness Programme | Awareness on Quality of Drinking Water | State Drinking Water & Sanitation Mission (WSSO), Lucknow | 2015-2016 | 3.5 Lacs Comnty | All Blocks of Distt- Unnao. |
| 18 | Priyadarshini Programme | Women Empowerment through SHG. | IFAD & NABARD, Lucknow. | 2013-2015 | 22500 Women | Block-Risia, Babaganj Distt-Bahraich and Block-Mahrajganj, Shivgarh, Distt-Raebareli. |
| 19 | Skill Development Programme | Training on Beauty culture and Garment | National Urban Livelihood Mission & DUDA, Azamgarh. | Oct 2015 May 2018 | 765 Youths | Distt HQ Azamgarh. |
| 20 | Old Age Home for Women | Care center of female older. | UP Mahila Kalyan Nigam Ltd. Lucknow. | March 2014 April 2017 | 100 Women | Distt HQ Azamgarh. |